About Me

Desiderata: n. to be desired or needed...

An excellent portrait of me, with thanks to Nikko.....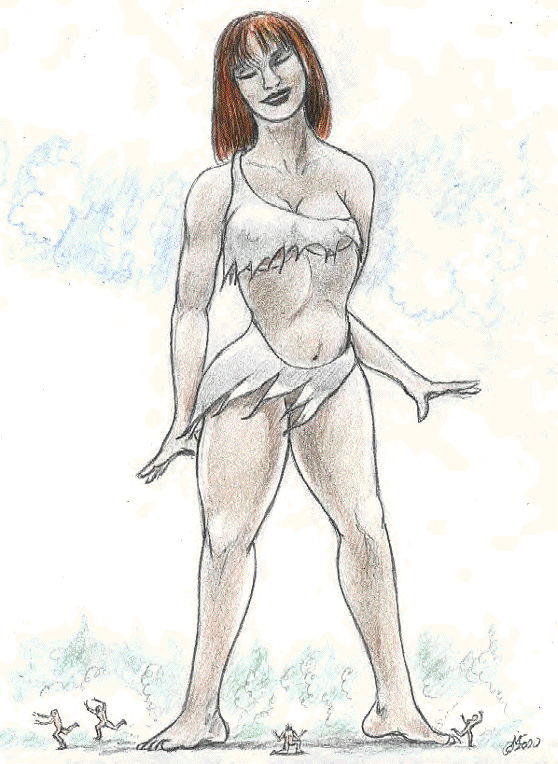 "I came into the channel one day, saw a new nick-Desiderata-at first I wasn't sure if she was a regular to the room or not... nor where her interests lay. But when she was asked what kind of Giantess she was, and she replied 'mischievous'... well... I began to feel that she was someone I wanted to get to know better.

Since that first meeting, (where I might add, she ate me in the most creative and delectable way,) I've had the delight of seeing her explore her fantasy, make new friends (and occasional enemies) and share her own creative talents. She writes with wonderful clarity about being a Giantess, and her waves are a seductive window into her love of being a Giantess. She's become a dear friend of mine... and I hope you enjoy getting to know her as much as I am." Scott Grildrig 10/00

Gotcha!! You've been captured and taken prisoner in my world, you're under my spell now. My name is Desiderata-Des to a select few. I am a Giantess/Goddess with somewhat mischievous attributes as Grildrig so marvelously mentioned. My joy comes from the power and control associated with shrinking things. The seductive sports I make of my conquests or the devious, destructive plots I develop keep them on their toes and me in a perpetual state of ecstasy. Although I'm not always violent, I definitely have a wicked evil streak. My world can be fun... but, as with any Giantess, there are perils... the weak won't last long!

Having said that, enjoy yourself meandering around... just remember this is FANTASY! Retain what interests or excites you and let the rest fade into nothing...

Des